Western Alaska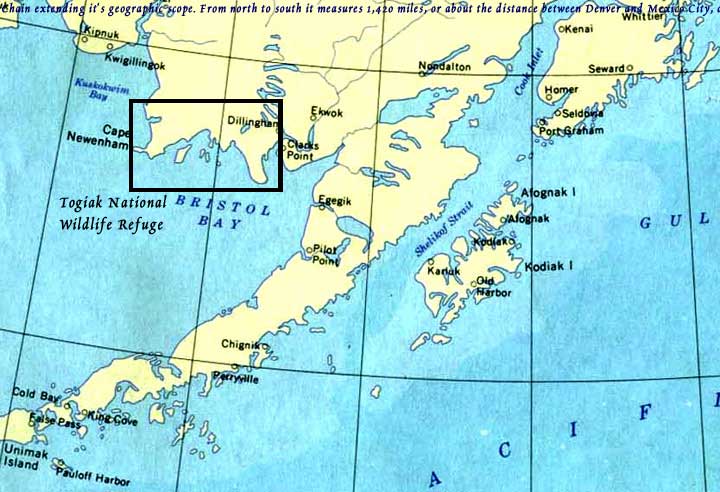 Southeast Alaska •Central Alaska• Western Alaska • Seattle to Alaska •National Parks
---
Togiak National Wildlife Refuge is dominated by the Ahklun Mountains in the north and the cold waters of Bristol Bay to the south. The natural forces that have shaped this land range from the violent and powerful to the geologically patient. Earthquakes and volcanoes filled the former role, and their marks can still be found, but it was the gradual advance and retreat of glacial ice that carved many of the physical features of this refuge.
The refuge is home to 48 mammal species, 31 of which are terrestrial and 17 marine. More than 150,000 caribou from two herds, the Nushagak Peninsula and the Mulchatna, make use of refuge lands, which they share with wolves, moose, brown and black bears, wolverines, red foxes, marmots, beavers, and porcupines, among other land mammals. Seals, sea lions, walrus and whales are found at various times of year along the refuge's 600 miles of coastline.
Some 201 species of birds have been sighted on Togiak Refuge. Threatened species can occasionally be found here, including Steller's and spectacled eiders. Several arctic goose species frequent the refuge, along with murres, peregrine falcons, dowitchers, Lapland longspurs and a rich variety of other seabirds, waterfowl, shorebirds, songbirds and raptors. Refuge staff and volunteers have also documented more than 500 species of plants, demonstrating a high degree of biodiversity for a sub-arctic area.
Today the Native peoples of Togiak Refuge are collectively known as Yup'ik Eskimos. Many native people in this region continue the traditional ways of their ancestors, living a subsistence lifestyle and maintaining their cultural beliefs. Subsistence users rely on the plants and wildlife of Togiak Refuge as a source of food, clothing, and raw materials. A main purpose of Togiak Refuge is to continue to provide subsistence opportunities. Salmon, smelt, and other fish are subsistence staples, along with moose and caribou, waterfowl, wild berries, and marine mammal meat and oil.
Visit the Alaska Native Heritage Center and the Alaska Natural History Association to learn more about the native people of this area and its environment.
Chartered trips to this corner of Alaska last about 50 hours, over three days and two nights, with departures on Mondays and Thursdays, times depending on the tides at Togiak. Extended trips to explore the other islands and 200 miles of wildlife refuge coatline are available upon request. Longer charters can include Round Island or as far west as Uniak in the eastern Aleutians.
Round Island, centerpiece of the wild and lonely Walrus Islands archipelago, is known to professional wildlife photographers world-wide as the best place to photograph walrus. It lies a dozen miles from the mainland, and some 30 miles south-east of the Yupik Eskimo village of Togiak. A quarter million seabirds, including kittiwakes, murres, auklets, cormorants, guillemots and two species of puffins, nest on Round Island's slopes and cliffs during the summer.
Our charter vessel approaches the island slowly and quietly, anchoring some distance out to go ashore in an inflatable boat. From there the party moves carefully so as not to disturb animals hauled out near the landing point. Ascending the beach and bluff to the trail system on the island, they are then met by biologists assigned to monitor the island and wildlife. The biologists issue permits and provide orientation for the group. Afterwards they are left to themselves for an amazing day on this magical isle. In the evening the party returns to the boat and motors to another island or back to the main anchorage.