RESEARCH CHARTERS -

VIEW RESEARCH FLEET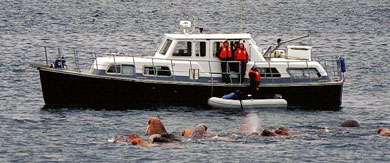 • Pertinent Information:

Charter Brokers of Alaska, LLC is identified as a small business and was started September 12, 2002. The company qualifies as a disabled-veteran-owned business, and is CCR and ORCA registered Fish.Travel - pompano beach fishing charter. All vessels and their captains work under contract, are chosen for their knowledge and skills in Alaskan waters, and vetted for qualifications and required licenses.

• Products & Services:

Charter Brokers of Alaska, LLC provides customized chartering of vessels both as skippered-bareboat and fully crewed (food, fuel, housekeeping). Primary SIC number is 7300. Primary NAICS code is 487210. Vessel chartering capabilities include marine and wildlife research, remote land and water sites, lighthouses, core sampling, surveying, tagging, hauling, diving, on-board lab work and seminars.

• Commercial References:

Bureau of Land Management
National Oceanic and Atmospheric Administration
Tlingit & Haida Indian Tribes of Alaska
*Please contact our office for specifics

• Additional Capabilities:

Charter Brokers of Alaska, LLC is in the business of providing safe and reliable multi-day water charters for the purpose of scenic and sightseeing transportation, wildlife and marine life research, whale watching, data gathering, surveying, core sampling, and any other activity requiring access by water. The vessels are inspected and insured. Not all research vessels are posted on our web site. We will respond to your specifications with an appropriate vessel.

• We offer a fleet of over 50 vessels. If our fleet is not complimentary to your needs, we offer the service of finding the vessel that will accommodate your needs. Our staff stands ready to help you through the search process with additional specifics provided by you.
---
Research Vessels
Join our Research Fleet to get an extra foot hold in the world of procurement bidding for NOAA, BLM, US Forest Service, University, and Independent research contracts. We keep a keen eye out for bids that match your boat, location, and availability. As a small disabled-veteran owned and CCR registered business, bids in our name sometimes have a higher level of eligibility.
We welcome research charter vessels from around the state. Many bids are very specific and do not fit every boat. Bids often specify vessels dimensions, passenger capacity, deck space, equipment, and location. We will submit a thorough, complete, and professional package for your vessel.
To join our fleet please submit:
• Photos of Vessel (by email or send pictures to be scanned in)
• Research Charter Data Sheet (pdf)
• Vessel Schematic (pdf)
Email Us
for more information.