Central Alaska & Prince William Sound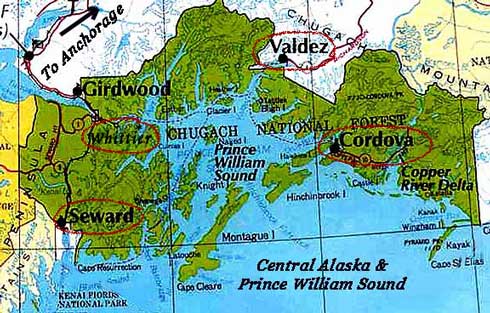 Cordova - Shaped by its dramatic natural setting, rich cultural heritage, and colorful residents, Cordova is a working-class, fishing town nestled in the heart of spectacular wilderness. Many its inhabitants still utilize the ocean and forests to make their living.
Seward - Situated at the head of Resurrection Bay on the Kenai Peninsula, Seward is one of Alaska's oldest and most scenic communities. Known as the 'Gateway to Kenai Fjords National Park' Seward is a picturesque town located 126 miles south of Anchorage. It hosts the terminus of the the Alaska Railroad that can take you North to Denali and beyond.
Valdez - Fur trading, salmon canning, and mining founded this coastal Alaskan town. Valdez was the staging area for the lower portion of the Trans Alaska Pipeline in the 1970's and hosts the southernmost end of the 800-mile pipeline. This pristine town is surrounded by the Chugach National Forest and has five glaciers in the immediate area.
Whittier - This small fishing town is located at the head of a fjord and only accessible via boat or through North America's 2.5 mile, longest vehicle tunnel. This one-way tunnel is shared with a train at scheduled intervals. Whittier is surrounded by the Chugach National Forest and is a great access point to many of the fjords in Prince William Sound.
Southeast Alaska •Central Alaska• Western Alaska • Seattle to Alaska •National Parks
---
SOUTHCENTRAL ALASKA includes Prince William Sound, the Kenai Peninsula, and the Copper River Valley & Wrangell-St. Elias National Park & Preserve.
Prince William Sound is located in the heart of South Central Alaska and has the densest concentration of tidewater glaciers in the world, some flowing a dozen miles from ice-capped peaks to terminate in cliffs of ice towering hundreds of feet above the water. You'll also see spectacular waterfalls and wildlife, including bald eagles, seabirds, otters, Dall's porpoises, and occasionally whales. You're never far from shore on a PWS charter. That means you'll look straight up at peaks raising 2,000 to 9,000 feet right from the water's edge. Charters in the Prince William Sound start out of Whittier, Cordova, Valdez, and Seward.
Kenai Fjords National Park is your other main choice for an Alaska glacier cruise in Southcentral Alaska. Cruise out of Seward via Resurrection Bay. This pristine fjord leads you out into the Gulf of Alaska. Heading west along the Kenai Peninsula you will have the option of exploring Cape Aialik or Northwestern Fjord. Both offer stunning glacial sights and many whale watching opportunities. You can also see an amazing amount of bird life including common murres, tuffted puffins, horned puffins, cormorants, gulls, arctic terns, and eagles to name a few.